Last week London hosted a very special residency by the New York Philharmonic at the Barbican Centre.
I was lucky enough to be able to attend one day of this residency, which is still very much a new concept.  The idea being for the orchestra to hold a range of activities throughout each day and evening from symphonic concerts, family events, new commissions and creative learning work.  It was the latter, in the form of a masterclass, that took my interest most.
Each principal player of the New York Philharmonic, who are held in the highest regard as some of the finest orchestral musicians in the world, gave a 3 hour long class to a select group of instrumentalists from the Guildhall School of Music and Drama – a very close neighbour of the Barbican Centre itself.  The 'open' masterclass for trumpet was given by no other than Mr Philip Smith.  The class opened with a spine-tingling performance by Philip Smith of the opening trumpet solo from Mahler 5, as he said, 'to gain our attention'.  There was no doubt that he did.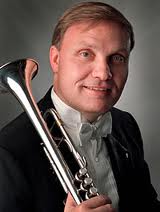 Over the course of the 3 hours Philip Smith led an extremely insightful but also relaxed, good humoured class with 6 variable trumpet 'guinea pig' students. Each student presented a performance of a piece they were currently working on, including works such as, Jolivet's Concertino, Honneger's Intrada to a very accomplished interpretation of Enescu's Legende.  After each student's mini lesson by the master – he opened the floor up to questions from a room filled with trumpet players.
I thoroughly recommend any student or professional musician to take time to attend such opportunities when they arise.  There is nothing better to re-bolster one's motivation or rekindle inspiration for your own instrument than listening to one of the world's greatest exponents of it.
http://nyphil.org/meet/orchestra/index.cfm?page=profile&personNum=88