Hi everyone, let me introduce myself……
I'm Nina Nesbitt, a 17 year old singer/songwriter from Edinburgh. I finished high school in June 2011 which gave me the chance to focus on my music full time. I've always liked singing & writing songs and begun posting cover songs initially on YouTube to get some feedback from people. I also looked for opportunities to start performing more at live music venues at beginning of the summer last year, as well as attending Most Entertaining for some instrumental tuition and performances.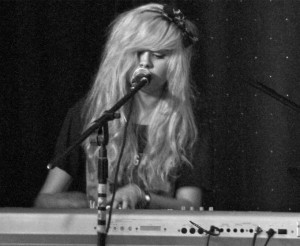 Since last summer my music career has taken off at an amazing speed following my live performances, one of which Ed Sheeran seen and subsequently invited me to support him in Glasgow & duet with him in London. Example heard about me & viewed one of my covers on YouTube of his song Stay Awake and liked it so much he asked me to support him in Manchester, Newcastle & Glasgow. It's been a crazy few months with a lot of opportunities coming my way in terms of my own music career and I will be back on here to blog regularly to share more of my musical adventures & experiences very soon.
In the meantime, for my up and coming mini tour in April 2012 of Glasgow, Edinburgh, Manchester and London I have launched a Competition today on my Facebook page which gives other keen up and coming artists the chance to support me on this tour by opening up my show in one of these cities. If you're interested in taking part here are the details below, which you can also find on my Facebook page www.facebook.com/ninanesbittmusic
COMPETITION TIME: For my mini tour in April 2012 I've got an idea of the main support act I'm going to take with me. However, in each city – London, Manchester, Glasgow & Edinburgh – I'm going to have someone different to open up my show each night. Instead of me being told who is supporting me I've come to the conclusion I'd like to decide myself. I'm really supportive of other upcoming or aspiring artists so I'm going to select 4 different people for different cities to open up the night for me. If you'd like a chance to support me in one of the cities please email "[email protected] " with your cover of one of my songs from the Nina Nesbitt 'Live Take' EP and also the city you'd like to support me in. For the gigs in Glasgow, Edinburgh and Manchester you must be 14+ and for London gig it is 16+ to take part in the competition. You do not have to have gig experience, I'm just trying to give some new artists a platform to showcase their talents. You can find my 'live take' Ep tracks on iTunes and YouTube to listen to, search Nina Nesbitt. Closing date for this competition is 1st March 2012. Good luck!
At my headline show at Glasgow Beanscene on Thursday 2nd February I've also chosen a local girl from Clydebank High School to open my show as I heard her sing recently and really liked her voice. I feel it's important to give other young people a chance to show case their musical talent and look forward to having Chloe Latimer (15) open my show in Glasgow!! Jonny Downie another young up and coming artist will be my main support on the evening. You can find both artists on Facebook 🙂