I have been singing with Most Entertaining Vocal Workshops since they started a couple of years ago. Before that I had sung with big choirs but was ready for a change. There are at most 15-20 in a group, though sometimes a bit smaller too.  We do a variety of different types of songs such as pop (over the decades), soul, traditional/folk, jazz, gospel, African and Gaelic etc. You can suggest a favourite to the singing tutor too. The tutors arrange the songs into harmonies and teach them to us, and you don't have to be able to read music. We sometimes write our own words to music and create improvised harmonies which is challenging, but great fun. We do a "gig" at the end of each 6 week workshop with the guitar group; friends and family can come along.
One of the highlights for me has been the chance to perform solo. I chose Moon River, one of my favourite jazz songs. I was really nervous as hadn't done this before, but made sure I had learnt the words – there aren't too many.  I had a one to one lesson with Kira the tutor and Finlay from Most Entertaining accompanied me on the piano, so I was really well prepared. The second time Kira asked for a volunteer to do Valerie, one of my favourite songs and my hand shot up right away. We used a backing track and the rest of the singing group did backing vocals – awesome!
The next gig is coming up soon, and it's an exciting time. As the gig approaches, you have to practice the harmonies and learn the words, though we can use the words at the gig if needed. The tutor sends recordings on MP3s to help, so it's not too demanding. It's a really friendly atmosphere. This term we had Freddie King a jazz singer teach us some serious breath techniques and Maeve Mackinnon a traditional singer has prepared some great acoustic arrangements of bluegrass and  well know pop songs. Looking forward to having fun singing on Wednesday.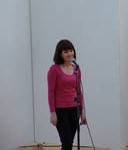 Margaret Fletcher, February 2012
She will be participating in our next workshop gig at Circus, St Mary's Street on February 15th 7pm